Halloween Begins
10/06/2010 10:30 PM Filed in:
Blog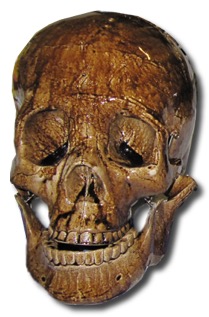 It's that time of year again. The zombies are rising from the grave... the goblins are hiding in the shadows... the werewolves are on the prowl... It's almost Halloween!!! This year I've got a lot of things planned. As you may have read in my last blog entry, I'm doing 9 days of Halloween activities this year. I actually changed it to ten days. It may actually be a little more... I added decorating the Pladd Dot windows (an annual tradition that I LOVE!!!) and I added Hagan's Haunted Forest and Haunted House. That makes 11 I think... I don't care, the more days the better!

Anyway, this year I bought extra decorations (as I always do) and decided to see what I could get on the cheap. Most of the places I went had some pretty good stuff. Some of my favorite new pieces are resin skulls I found at Big Lots. They looked great and were pretty cheap. I got them for about nine bucks each. I also like the cut off hands and feet I found at K-Mart. The mould is shockingly good and the paint job is pretty nice too. They look a little pale but it adds to the "not receiving blood from the heart" kinda look...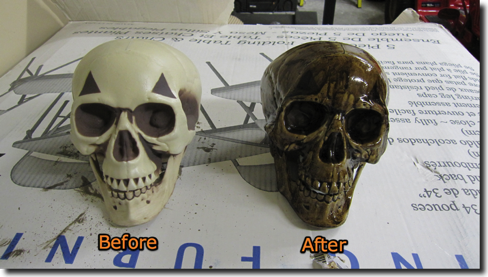 These pictures show some cheap skulls I got from an online dealer. The skull looked great in the picture and when I got them they were disappointing to say the least. The paint job was so bad that I thought they sent me a different skull. Then when I went to a Halloween shop in Savannah I noticed that they had the same skull with a different paint job. This caused me to take a second look at the cheap skulls again. The mould was really pretty good for "six buck chuck" (as I'm now calling him). I looked online and read up on how to "corpse" the skulls and decided that all mine needed was a little age thrown at it. So I painted them with wood stain and the results were pretty awesome! The other pictures show a "Bucky" skull before and after the paint job. I bought two versions of Bucky: One is a detailed skull with removable calvarium and the other is a really cool one piece skull. Just in case you always wanted to know, the skeleton in your high school biology class was also probably a "Bucky" skeleton. The cheaper plastic hollow skeleton is called a "Blucky". (Just a little Halloween trivia for ya!)

Next year I think I'm going to corpse an entire Bucky Skeleton. I've got some great ideas and I'll keep you posted...