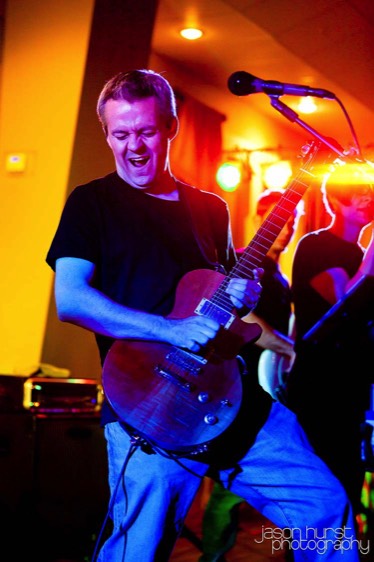 Chris grew up in the rural town of Hagan, GA, graduated from Claxton High School, and is a singer / guitarist / songwriter that is has been touring the southeast for the last 20 years. Chris earned a BM in music from Georgia Southern University. While in college, his band Wallace Green recorded two albums; Wonderllamasoup (1996) and evandrool (1999).
While attending GSU Chris studied classical guitar and voice. Chris performed the first student Classical Guitar recital at GSU and was a key member in the development of the program. Works on Chris' senior recital included selections by Carcassi, Sanz, Randy Rhoads, and works of Mitchell's own composition.
Interested in visual art as well as performing arts, Chris began studying graphic design in 1996 and started a graphic design house (Pladd Dot Graphics) to meet the design needs for his musical endeavors. Pladd Dot Graphics currently handles all of the artist's printed and web publishing as well as a small host of regional clients throughout the Southeast.
Chris is currently touring with a new band aptly named the Chris Mitchell Band. The group was handpicked from the finest musicians in the area to form the new ensemble. Lifelong friend and extraordinary musician, Jake Hallman, plays keyboards and performs on backing vocals. Ryan Kelly, grandson of the legendary Emma Kelly holds the bottom down on bass. Matt Fallin holds a doctorate in percussion performance (and as J.J. Evans would put it - is DY-NO-MITE!). The final member of the group is Chris' wife, Ashlee. Ashlee has gained notoriety throughout the Southeast as a strong vocalist and has performed throughout the area in several touring ensembles.
Chris took a hiatus from recording in 2007 to produce an album for his former student and colleague, Mary Hannah Riggins. The collaboration resulted in Damsel in Distress-a-lot, Mary's debut album on Pladd Dot Records.
Currently, Chris is hard at work on his first solo album, the pieces of smalltown which as it's namesake suggests, will offer an edgier "americana roots" tour of the artist's soul - tracing Mitchell's history to the "small towns" he knows and loves. The band will be in the studio recording later this year. There are plans for a Christmas album in in the future, marking the artist's fourth album. Chris' first instructional guitar book, lessons for life (and guitar), was published in February 2009. Chris published Away in a Manger - 12 Christmas songs for easy guitar (2010) and Halloween Night - 13 Songs that go Bump in the Night (2011)
In 2011, Chris launched a manufacturing division of Pladd Dot Music and began manufacturing guitars (Chris Mitchell Guitars, or CMG) and amplifiers (Devilcat Amplifiers) in the company's 7,500 square foot Statesboro, Georgia factory. That same summer, the guitars won the prestigious "Best In Show" by the National Association of Music Merchants (NAMM) in Nashville, TN. Both companies now have national distribution from Maine to California along with international sales.
Chris maintains a guitar studio of about 30 students a week and manages all aspects of Pladd Dot Music, Pladd Dot Publishing, and the manufacturing division that manufactures CMG Gutiars and Devilcat amplifiers. Pladd Dot Music currently has over 175 students enrolled in private lessons and has a retail division that caters to the Statesboro and Savannah area.
Chris lives in Statesboro with his wife Ashlee and Packer - their french bulldog.
Make sure you check out the new album while you're here. I've put it off for far too long and I think you'll find that it was worth the wait.
My life's work is about pursuing my passions. From music composition, education, manufacturing, and even toys. Check out my other sites to see what else I do.